Customer Service
We've made it very easy to order from us by using any of the following options:
Online Orders

New Customers - Create an account here. Important: Your e-mail address must be confirmed before using it to log in to our store. Once you have created a new account, we will have sent you a verification email to the address you used to create the account. To confirm the e-mail and instantly log in, please, use the confirmation link in that email. The link is valid only once. If you cant find the email in your inbox, try looking in your spam or junk folder.
Returning Customers - Log in here using your account email and password.

Ordering Online: Once you are logged in, buying online is easy. Simply browse our online Catalog and select the Quantity of product you want by clicking on the Buy Now or Buy Qty button. The product and its quantity are automatically added to your cart and you may proceed to view your cart and check the details before proceeding to the Checkout.
Shopping Cart:From the Shopping Cart page you can

Review and/or edit the details of your order
Apply Discount Coupons for any current promotions that may be on offer
Get a Quote for Shipping from the Estimate Shipping and Tax widget
Proceed to Checkout

Checkout:From the Checkout page you will confirm

Billing Information: Billing Address
Shipping Information: Shipping Address
Shipping Method: Choose from our available Shipping Methods
Payment Information: Input your Payment Information
Review and Place your Order
Confirmation: Once your Order has been received you will receive an email confirming the details of your order and subsequent email confirmations will be sent at each stage of the order processing, from payment to shipping.
My Dashboard:
Once your account has been created you can view your account details, by logging in using the log in links on any page. Once logged in you will be directed to My Dashboard,from where you can view your Recent Orders, view/edit your Account Information and Billing and Shipping Addresses. On the left panel is a block titled My Account from which you can view and/or edit the following:
Account Information: Edit your Name, Email address or Password
Address Book: Add or edit your default Billing Address and Default Shipping Address
My Orders: View a record of all your Orders, Reorder past orders or Create a Help Ticket for a particular Order
My Product Reviews: View or Edit Product Reviews that you have submitted
My Wishlist: View Products that you have previously added to your Wishlist
Newsletter Subscriptions: Subscribe/Unsubscribe to our Newsletter
Help Desk: View Support Tickets that you have raised or Create a new ticket
My Invitations: View status of registration invitations that you have sent
Reward Points:View the status of your Reward Points
Forgotten your Password?:
Click here to reset your password.
A New Password is forwarded immediately to your email address as registered. If you cannot find the email we suggest checking your spam/junk folders. If the email was not received contact the Customer Service Team who will gladly reset the password for you.
View My Orders:
Customers who have purchased as a Guest (ie not registered an account) are able to lookup their Orders by using the My Orders link in the footer and inputting the Order number and the Name and Email address they placed the order under. Registered Account holders who are not logged in can also use this link to review their order.
FREE SHIPPING: 1st class Registered Airmail Shipping - delivery 10-14 working days

Express Post: EMS - delivery 5-7 working days - Fee $30* (*for larger orders a higher EMS fee applies)
Tracking: You can use this site http://www.track-trace.com to track your order.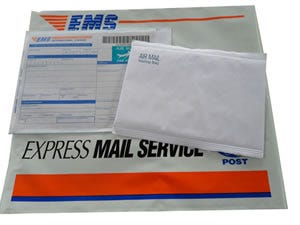 The postal service makes every effort to deliver ontime. Orders are dispatched within 72 hours of payment being approved.
Large orders will be shipped in multiple packages on different days.
If you have not received your order within 21 working days, please contact ourCustomer Serviceteam.
Replacement orders will be issued ONLY if a correct address was provided at the time of ordering.
ECheck: Electronic Check (U.S.A. only)
What is an electronic check?:
An electronic check is a one-time, electronic funds transfer from your bank account that allows you to pay for your purchase via the Internet without actually writing a check. It is essentially an electronic version of a paper check, which includes date, payee name, dollar amount, digital signature, bank account number and routing number.
Routing Number:
The bank routing number is used to identify the banking institution and is included in the long string of numbers located on the bottom of a check. The first 9 numbers from the left at the bottom of your check is your Bank Routing Number. Please call your financial institution if you have any questions about your bank routing number.
Account Number:
The bank account number is used to identify your checking account and is included in the long string of numbers located on the bottom of a check. Your check number is not a part of the account number. Please call your financial institution if you have any questions about your bank account number.
Which bank accounts can I use to make electronic check payments?:
Only a personal or business checking account may be used. Deposit Slips, Credit card checks (checks drawn on a credit card account) and money market accounts, CANNOT be used for electronic check payments. In the event that your financial institution does not accept Automated Clearing House transactions, you will be notified. Please contact your financial institution if you have questions about ACH acceptance.
How is my payment processed?:
Once the order has been created the Payment Processor, eCheck, will attempt to contact you by telephone to confirm the authenticity of the request, using the Contact details you supplied whilst creating the order. Once your transaction is approved by the processor a withdrawal request is sent to your bank. Please be aware that they will not approve your transaction and send the withdrawal request to your bank until they have confirmed the authenticity of the request. If you would like to initiate the call yourself please contact echeck on 855-403-3855, otherwise it is important that the contact details you provide when placing your order are readily accessible by you.
Hours of operation are Monday to Thursday 9AM to 7PM EST, Fridays 9AM to 6PM EST.
Ulcershop is committed to offering our customers the highest quality of service and products.
Orders displaying a status of processing or shipped cannot be cancelled, however, upon receipt of the package please return the package to our depot for a refund.
Please direct all your enquiries to our Customer Service Team promptly.
You can find details and the current status of your order by logging in here, or if you purchased as a guest check your order here.
Here at Ulcershop our customers satisfaction is the key to our success. We offer you our guarantee of the highest possible standard of service to ensure a timely delivery and quality product. We are here to provide positive results to you.
You may view your order at any time by logging in and clicking on "My Account", which will take you to "My Dashboard" from which you can view any/all orders you have placed as well as items still in your "Shopping Cart" and "Wishlist". You can also edit any details of your account details here, including your Name, Address, Delivery Address, Telephone Numbers, and Email addresses.